Meet us, our colleagues from the Worldfactory Start-up Center (WSC) and other like-minded entrepreneurs at our upcoming events:
May 25
Start-Up Thrive
The Health market in germany still faces resentment towards "out of pocket" payments, which makes it even more important to be well established when entering that market.
Partnerships with Health Insurance Companies can be a good foundation to tackle that issue, but Sales with Health Insurance Companies have problems on their own.
Join this months Webinar to learn all about health insurances as a business.
you will learn:
– how to spark the interest of health insurance companies
– Tipps, Tricks and Best-Practices
Speaker:
Victoria Engelhardt
Founder of Keleya 2017
A Company with the ambitious goal to help families and pregnant women through the difficulties of pregnancy, birth and the time after.
May 11
Health+ Investors Demo Day
Call for Health Start-ups NOW!
We are thrilled to present the start-ups of our Health+ Incubator programme fr and the entire region of North Rhine-Westphalia. Get ready to witness the future of healthcare with your own eyes!
Click here to find out more about the event.
March 29
Medtech Pitch Day
The High-Tech Gründerfonds is hosting the 9th Medtech Pitch Day, together with B.Braun, Dräger, the Health innovation Port by Philips and the Die Techniker health insurance, on 29th March 2023 in Berlin.
Founders will not only get the chance to listen to relevant lectures by leading actors in the health and medicine field, but also pitch their ideas and technologies to medTech investors as well as corporate decision makers of that industry.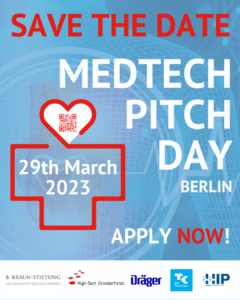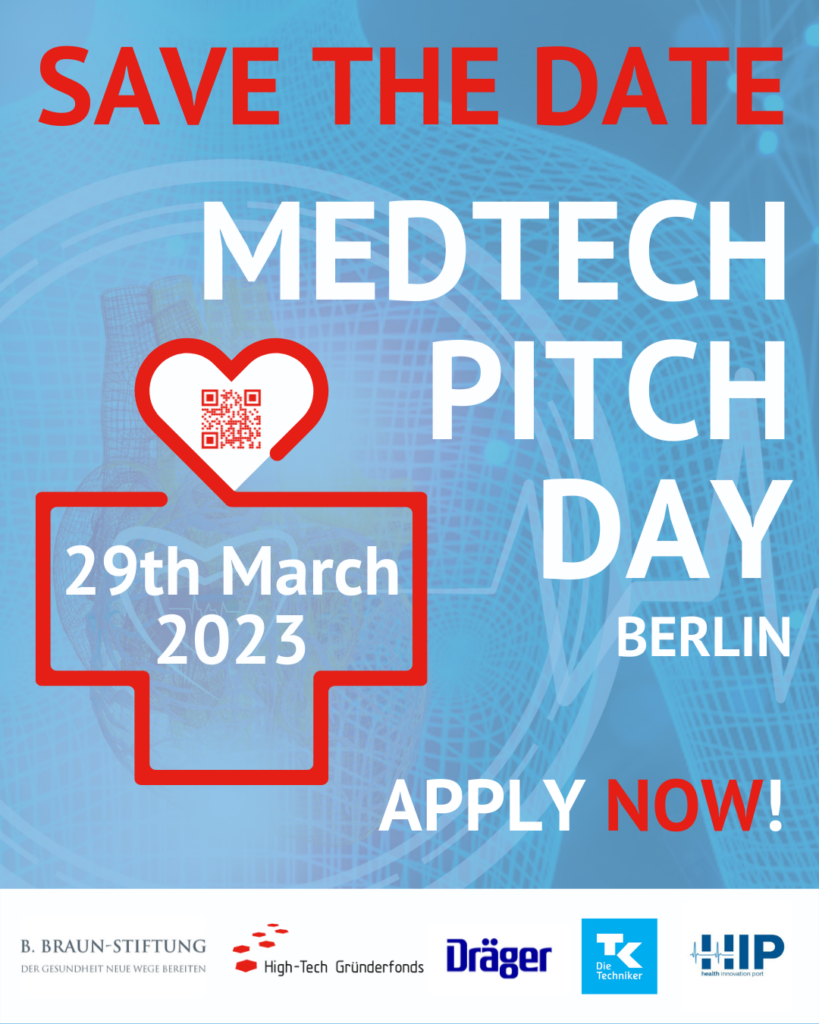 March 23
Start-Up Thrive
As founders in the healthcare sector, you face special challenges. In order to make better decisions and become more successful, we, as the Health+ Incubator, have created the monthly/free webinar series "Health+ Start-Up Thrive" for you.
The guest for this months Thrive, Jonas Leve, is an economist from Witten-Herdecke and co-founder of 7Mind. Together with him, we will talk about the secret of a succesful team and hear about the perfect team constellation.
Click here to register for the event.
February 23
Start-Up Thrive
Just starting out in the field of health and medicine? Do you need help deciding which sales or marketing strategies work best for your product?
This weeks Start-Up Thrive aims to answer these questions with this weeks guest speaker Dr. Johannes Wappenschmidt, CEO & Co-Founder of the Vintus GmbH.
Sparked your interest?
Click here to register for this free Webinar.
January 20
Lunch Lecture
FACE@RUB, SmartSystems and Health+
Are you a humanities or social sciences major and are interested in the fascinating start-up scene but don't know where and how to start your own venture into this brave new world? This lunch lecture co-organised by FACE@RUB, SmartSystems and Health+ is exactly the right event for you. Come and listen to the experiences of start-up owners from these fields!
September 26-30
Explore the start-up scene in the Ruhr are at Ruhr Start-up Week 2022. Get ready to share and show you start-up ideas to new customers, potential capital providers, or like-minded people and find out more about the topics that drive aspiring founders.
August 18
Digital Innovation Hub Düsseldorf
Get connected to Incubator Health+ as well as other thought leaders, CEOs and entrepreneurs at Digital Demo Day 2022. Reach out to us at the booth of Worldfactory Start-up Center (WSC) and dive deeper into the start-up scene via the diverse programme.
August 22
Start-ups and innovators in the field of digital health, your chance to bring your digital supply solution to the GKV has come! Enter the Healthy Hub Call 2022 and benefit from the know-how and remuneration of health insurance companies. Application opens until August 22.
August 26
Special prizes of 1000€ in the categories of "Health and Support", "Health and Science" and "Health and Business" will be presented at the 7th Essen Health Forum on September 24. Application opens until August 26.
August 26
Messe Dortmund
Meet and connect with our central WSC team at Impact Friends in Dortmund, where social and sustainable  entrepreneurship as well as social innovation are explored and exchanged.